Editing Photos with Filters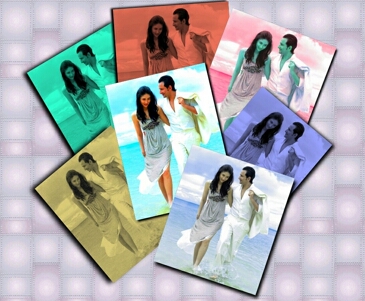 If you are into making photo collages, no doubt you enjoy playing with images, intriguing and astonishing the viewers with the combination of shapes and colors. The art of collage making awakens your creativity and desire to find the perfect image. All that means that you will certainly love the feature offered by Photo Collage Maker – editing photos with filters.
Basic filters modify a photographic image, changing the brightness, saturation, hue and color balance. They also enable you to invert photos creating a negative, to age them creating an "old film" effect, to turn a photo into a pencil drawing. Besides, there are filters that distort the viewing perspective, like "Fish Eye" or "Twist". Editing photos with filters you will create fascinating visual effects, turning your pictures into surrealistic masterpieces. However, you can also apply filters for image enhancement, e.g. to bring out the blue of the water or the green of the trees, to highlight certain colors in the overall composition.
Photo Collage Maker makes editing photos with filters incredibly easy. The Filters gallery is located in Frames and Effects in the left working pane. To apply a filter you just need to select a picture, and double-click on the chosen filter. Some of them, like Fish Eye, Desaturate or Invert to negative, will be applied automatically. Double-clicking on other filters will open a window with several variations – you can preview the outcome with a single click, and press OK when you see the best result.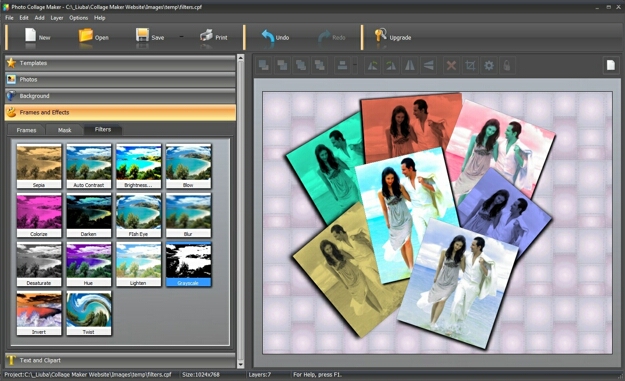 For more advanced and demanding users, filter settings with sliders are available. The Filter Settings button is located above the variation previews. For instance, you can adjust the Hue filter settings, changing the hue, brightness and saturation. For the Grayscale filter which turns a photograph into a drawing it is possible to select the main and the additional color. You can even create and save your own customized filters.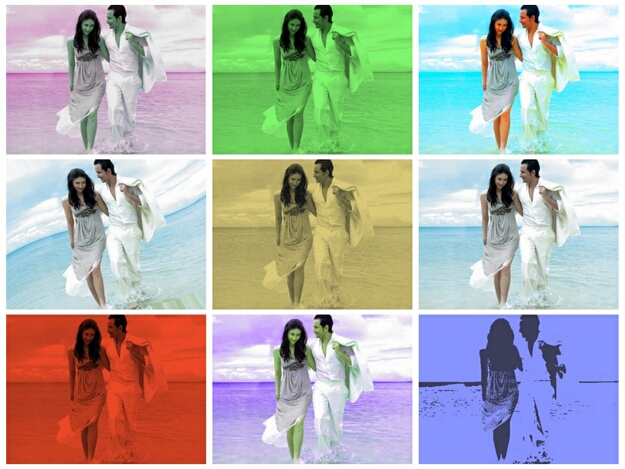 In addition to editing photos with filters, you might be interested in other image enhancement techniques. You can learn How to Blend Pictures Together and How to Edit Pictures with Masks.
Discover unlimited opportunities for editing photos with Photo Collage Maker!