Scrapbooking Tips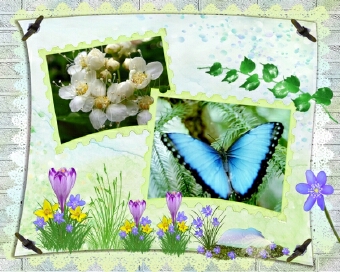 In recent years, the ages-old craft of scrapbooking has gained a second life with the appearance of digital scrapbooking software. You cannot but appreciate all the benefits of digital scrapbooking. It allows you to experiment with colors, layouts and decorations in a short time, without wasting a lot on costly supplies. It's clean and neat, no glue, scissors and punches are needed – which is really crucial when you have kids around. Eliminating the mess with supplies also means more time for adjusting pictures and playing with layouts. Once you try it you will realize how much time for the enjoyable part of the work is left!
In the Internet you can find numerous scrapbooking tips and free templates. They are a good way to start with digital scrapbooking. However, having a special program installed on your computer offers you considerably more opportunities. In addition to plenty of professionally designed templates, you will be able to experiment with various features to adjust the layout, enhance your photos, and add interesting effects. A program like Photo Collage Maker is ideal for amateur scrapbookers – it's inexpensive and easy to master, compared with sophisticated photo processing software.
So, are you ready to explore the possibilities of photo collage software? The following scrapbooking tips will probably be very helpful when you start.
Working with Templates
The rich templates gallery of Photo Collage Maker allows a quick start for a beginner. The easiest thing to do is select a template from a suitable category – Children, Seasons, Travel, Vintage etc. – and drag your photos into the frames. Feel free to make slight changes to the template itself. For instance, you can select any picture frame or clipart element by clicking on it with the mouse, and move it to the desired location. This may be necessary to improve the overall composition and add individual flair to your scrapbook pages.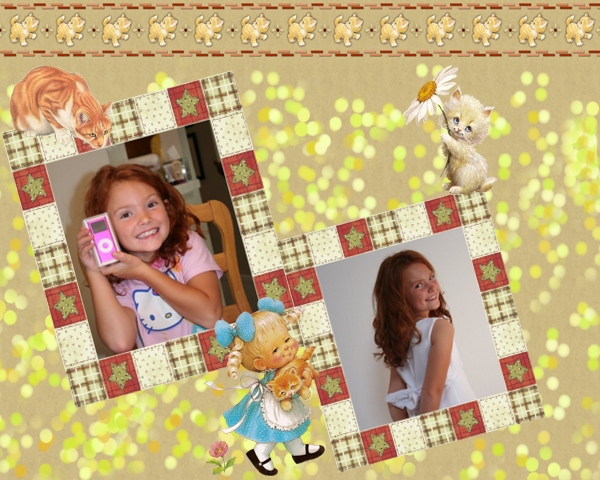 Cropping Photos
In the templates collection there are various fancy frames that may require little changes for the photograph to fit perfectly. If you see that the picture is automatically cropped when you insert it into the frame, note that you can achieve a perfect result manually. Just click on the frame with the photo, and select the Cropping tool. You can find it either in the Layer menu, or on the toolbar above the working area, next to the red Delete layer button. With the cropping tool, you will easily adjust your photos to fit frames of any size and shape. You can see some more examples of this as well as more scrapbooking tips in Wedding Scrapbook Ideas.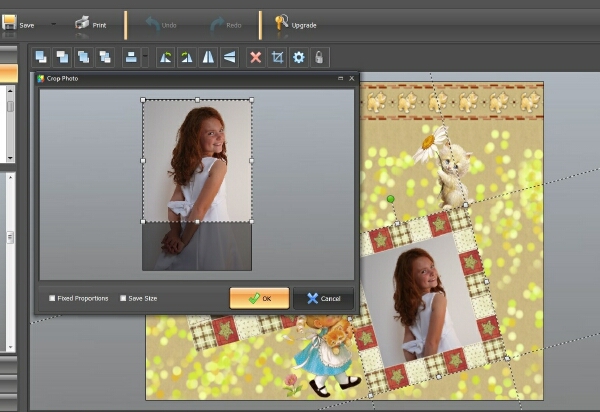 Using Layers
When you have three or more photos on one page, plus some embellishments, you naturally want to highlight some of them, leaving the others in the background. The convenient Layer tools, located above the working pane, allow you to bring to front or send to back any element of the whole composition. Using layer tricks you can also hide some parts of the photos that are not really successful under other photos or clipart.
These scrapbooking tips should help you take care of every small detail, and design marvelous scrapbook pages with Photo Collage Maker!