How to Make Your Own Photo Book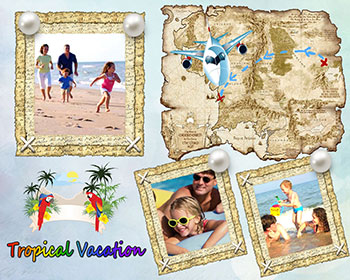 Our life is full of occasions that we want to remember. Holiday trips, family celebrations, friends' parties, national festivals… all of these leave hundreds of photos behind. You can't but agree that endless folders with pictures lost in the depths of your PC are not the best way to keep your precious memories. The time-old tradition to make your own photo book is making its way into the digital age. Today this fun activity is getting a new birth thanks to creative software which offers plenty of tools for making professional quality photo books with your personal touch.
Let's see how to make your own photo book with Photo Collage Maker – popular digital scrapbooking software that has ample tools for creative artwork.
Pick the Layout Template
When you launch the software, the wizard prompts you to select the project type – choose Collage Templates to access a variety of professionally designed page layouts. They are divided into groups devoted to a certain theme – Travel, Wedding, Children, Vintage, etc. Note that each template comes in at least three variants, so you can use it for different numbers of pictures. At the next step you'll be asked to decide on the page size and resolution – set 300 dpi for best quality prints.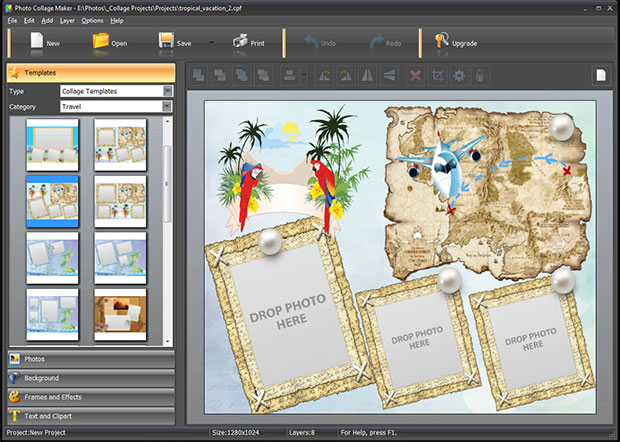 Choose the Highlights and Plan the Storyline
When you make your own photo book, you certainly want to include as many pictures as possible. To make it tasteful and stylish, you need to decide which photographs deserve special attention – you will insert these into layouts for a single photo, or layouts which have a large photo frame surrounded by small ones. Then, plan how you will arrange the pages so they tell a story and complement each other in terms of design. For a well-balanced arrangement, it's best to have an outstanding photo on one page, and some supporting images on the opposite.
Insert and Edit the Pictures
Now that you have the design template and the idea of the story in your mind, it's time to add the photos. In the main window of Photo Collage Maker all your photos will be displayed on the left – click Photos and browse the folders tree to open the one you need, select a photo, and drag it into the frame holding the muse button. Make sure you drop it only when the cursor is right above the blank space inside the frame. The program will probably crop the photos to fit them into the frames. If some important part is hidden, select the photo, and click the Crop button above the canvas to fix the crop.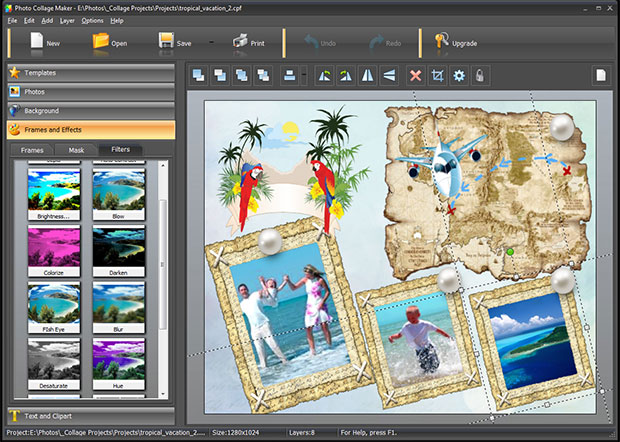 Some photos will probably need quality enhancement. Besides, you may want to add special effects – for example, when you make your own photo book in vintage style. Image editing tools and filters can be found on the left, in Frames and Effects > Filters. To apply an image filter, select a picture on the canvas and double-click on the filter you need. Some are applied automatically, like Auto Contrast or Desaturate. Others have presets, e.g. you can choose between six presets of Brightness or Hue. You can apply custom settings, too - learn more in Editing Photos with Filters.
Add Captions and Play with Text Styles
You'll certainly want to add some captions or quotes to your photo book pages. Some layout templates have a special frame for text, while with the others you'll need to choose the best place yourself. If there seems to be not enough free space, you can move or resize decorative elements with drag & drop. Now, open Text and Clipart on the left, type your text in the field, click Add Text button, and it will appear in the center of the canvas. Move the caption where you wish. You can use the little white markers on the edges of the text box to resize the text with drag & drop, and the green marker on top to rotate it.
To change the text font and color, you can either use preset styles – select text and click Styles on the bottom left, or open Settings for more flexibility. Advanced text settings include creating a custom gradient filling, adding outline or shadow, and more. Just start playing with the settings!
As you can see, Photo Collage Maker offers everything you could wish for to make your own photo book. Start creating one today – perhaps it will become a precious keepsake for years to come!