How to Make a Baby Scrapbook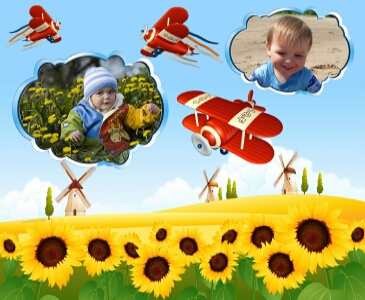 Having a baby is a magical event, and we want to keep in memory every moment of this happy period. There is a great way to preserve those evanescent memories for many years to come – make a baby scrapbook! It will hold the photographs as well as your thoughts and feelings that tell the story of your baby's first steps in this world. Your child and family will love to recall this wonderful time one day in the future.
What do you need to make a baby scrapbook? Plenty of photos, a little time, and a convenient tool – that's all. Today you don't have to spend ages on making your scrapbook with paper, scissors and glue. Try smart computer software like Photo Collage Maker from AMS software. Its attractive designs and intuitive interface let you create an amazing scrapbook in no time – it's vital when you are a busy mommy!
The following will advise you how to make a baby scrapbook and what to keep in mind while you are engaged in this exciting process.
Organization
There are different approaches to organizing the baby scrapbook. It can be done in chronological order, maybe starting with the pregnancy period, through the baby's birth, and then showing the milestones of its first year. Another idea is collecting the evidences of all your baby's firsts: first smile, first bath, first crawl, first steps and first fall, first birthday, first Christmas, first trip to granny's place and any other firsts that you can think of. You can also make a special scrapbook devoted to the funny moments you captured with your camera.
Photos
Take loads of them! It's really hard to capture the attention of a little baby in order to get perfect pictures, so having plenty of shots to choose from is crucial when you are choosing the one that fits best into the composition of a certain page. Besides, you never know when something funny and worth including into your project happens – that's why you'd better always have your camera around!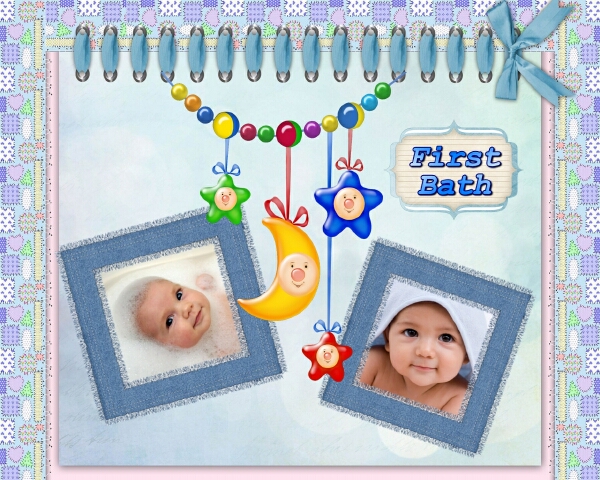 Layout and Decorations
The photo collage software will provide you with many cute ready-made templates for your scrapbook pages. All you need to do is drag and drop the photos into the frames. Photo Collage Maker has a special Children section in the Templates collection. You can also design the pages from scratch. If you prefer this way, you need to select Blank Project in the very beginning. Then, decide on the background, place the photos where you like, add text comments and decorations from the clipart library.
When you make a baby scrapbook, let it stay focused on the baby, rather than a lot of decorative elements and comments. Try to keep the design as simple as possible. Let the photos tell the story, while some text and embellishments should only complement it.
When you realize how addictive scrapbooking is, you might be interested in other Photo Collage Ideas. You may also want to learn How to Make a Family Collage or a New Year's Collage.
With Photo Collage Maker you can create cute scrapbooks and collages with a few mouse clicks – try it now!